2013 Black Muscat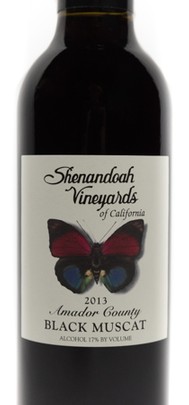 Wine Specs
Appellation
Amador County
Bottling Date
March 11, 2016
From a rare red muscat clone, Muscat Hamburg, comes this lightly colored imminently drinkable, fortified dessert wine. Estate grown and sustainably farmed, the wines aromatics lead off with hints of crushed rose petals, lilac blossoms and vanilla bean. Sweet and decadently luscious, the wine teases the palette with flavors of crushed blackberries, ripe plums and dried cranberries while leaving a long warm lingering, come hither finish. Serve straight up or on the rocks, this wine complements a blackberry cobbler a la mode to near perfection. A rich, pure hedonistic delight!
Wine Specs
Appellation
Amador County
Bottling Date
March 11, 2016
Wine Profile
Awards
BEST DESSERT & DOUBLE GOLD – 2016 Amador County Wine Competition; DOUBLE GOLD – 2015 Amador County Wine Competition; DOUBLE GOLD – 2016 Calaveras County Wine Competition
Food Pairing Notes
A perfect match for your lunch or dinner menu. Goes well with rich cheeses and desserts.
Product Reviews
Timothy Miranda
(Mar 23, 2016 at 2:19 PM)
Great wine
Timothy Miranda
(Mar 23, 2016 at 2:19 PM)
Great wine